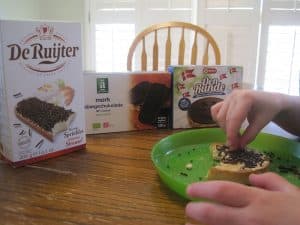 It has been said that getting to eat chocolate sprinkles on bread is one of the reasons why Dutch children are so happy. Of course, the Dutch are not the only people who have figured out that chocolate and bread are a great combination.  The Danish make thin chocolate slices to eat on bread called palaegschokolade.  And don't forget Nutella and its variations.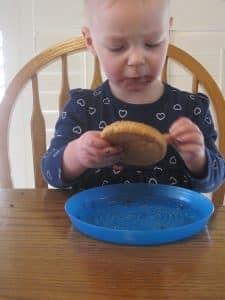 DeRuijter hagelslag are probably the best chocolate sprinkles available at least here in Canada…definitely in Welland.  They are also great on ice cream, yoghurt or cakes. Those crunchy cake sprinkles like the ones that Tim Hortons puts on doughnuts are just pure candy.  Dutch hagelslag is real chocolate; it melts on your toast and in your mouth.  Once you have had the real thing you will never go back to those cheap imitations
Did you know that hagelslag means hail storm?  After the winter we have had in Welland, it's nice to know that there are some types of storms that are only pure pleasure. Of course, some of us don't even want to bother with the bread! I wish this little one lived closer to Welland so I could enjoy watching her pick her sprinkles off and put them directly into her mouth every day!
For more about chocolate sprinkles check out this link:   http://sweets.seriouseats.com/2011/12/eating-sprinkles-the-dutch-way-hagelslag-on-bread.html
Click here to read more about the history of sandwich sprinkles.