We are all craving soups, stews and stamppot  (Dutch mashed potato dishes) at this time of year.  Check out these "cool" pictures of our corner of Ontario today. John shoveled our sign out of the snow at 7 am and it's piling up again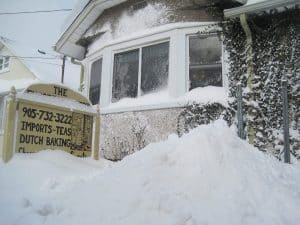 I walked next door to the Welland Farmers' Market to see how the vendors were faring.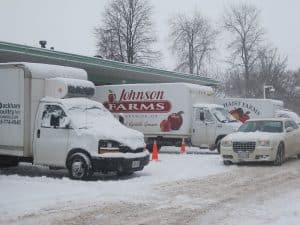 The folks from Haist Farms were selling apples and hot cider…love this display!
Fresh meaning to "frosted baked goods"!
It was much warmer inside, especially with the Annual Chili Cook-Off happening!
Our panel of judges included Deputy Mayor of Welland, Pat Chiocchio (who was taking no chances at staying warm!), Cindy Forster, local MPP, Malcolm Allen, our voice on Parliament Hill, and Counselor Bonnie Fokkens who represents the Welland Market at city hall. Dan Fortier's first place finish not withstanding, Mr. Arnold Steve definitely earned bragging rights by snagging both 2nd and 3rd places with his mild and hot chili entries!
Welland Farmers' Market has a long history.  Many of the vendors have been coming out for years. "The Flowerman" first came to the market 57 years ago to help his father sell vegetables. Now his daughter, like many market families, is continuing the tradition into the next generation.
So the market is open!  I didn't have time to check out the rest of the market in the other building…maybe next week.  And if you come to the market, don't forget to drop by The European Pantry.  We are right next door…where you will find all the fixings for those hearty winter meals!