It certainly wasn't a trip into enemy territory but lots of observation went on. Last Thursday, four members of the Downtown Welland BIA went on a reconnaissance field trip. We were are diverse group:  Julie Barker from McNall and Barker Paralegals; Heather Hudson who owns and is rehabilitating a building in downtown Welland, Stephanie Hicks our Business Development Officer at the DWBIA and myself, Jacqui Eisen, co-owner of The European Pantry.  Our investigative foray included visits to several other downtowns in the Niagara Region to gain insights into what attributes contribute to a healthy downtown community.
As we explored, we asked questions:
What characteristics does a healthy downtown exhibit?
What types of businesses are thriving?
Who are these businesses selling to?
Who is investing in these businesses? Where is business capital coming from?
What types of business plans appear to be evident?
What type of marketing are these businesses using?
Characteristics of healthy downtown business districts areas:
Historic buildings and characteristics. Preservation of historic buildings and the historic details of business buildings is vital.  If people want  generic and modern, they will go to a shopping centre.  People gravitate to a downtown because they hope to see buildings of character with stories that are rooted to the history of the community. As I was writing this I did a bit of googling and found this interesting article: http://www2.ca.uky.edu/agc/pubs/fcs4/fcs4408/fcs4408.pdf
Clean well marked streets. Wide safe sidewalks. Sufficient free parking for both cars and cyclists. We had to dodge "doggie do" in one downtown.  That doesn't contribute to an enjoyable shopping experience.  We noted secure cigarette disposal units in another downtown, something we are hoping to have soon in Welland.
Something for everyone. A wide variety of stores that cater to both local population as well as tourists. Higher end shops share the street with "dollar stores".
Eateries post menus on the outside of their buildings. Visitors are leery of walking into a restaurant not knowing if they will like or be able to afford what is served there. When menus are not posted they are more likely to walk past and find the nearest fast food chain where they know what to expect.
Friendly, helpful staff that are quick to engage with consumers
No visibly empty store fronts. If stores are not occupied, the store fronts are maintained.
Integrated residential units. This included upstairs apartments and in one locality we found a beautifully rendered facade in stone that contained…we were surprised…student housing!
We noted the following types of businesses:
One or more pharmacies
Women's clothing stores
Decor stores and flower shops
Interesting eateries that offer a variety of food genres in atmospheric environments in a range of price brackets
"Non-chain" dollar stores with cute store fronts
Artist cooperatives or outlets that market the creations of a wide variety of artists. The stores focus on local art but allow other Canadian artists to display to ensure good selection
Bakeries
Specialty food stores that offer imports and domestic products that appeal to foodies and the ethnic buyer
A weekly farmer's market
Spas, wellness centers and beauty salons that cater especially to women. We didn't see any dubious massage parlours, adult entertainment or strip joints. These  are streets that families with young children feel comfortable and safe walking.
Professional services such as travel agencies, legal services, dental and medical offices, banks, etc.
Who are these businesses selling to?
Ridgeway includes a thriving retirement community within its borders. It was evident that there were many businesses retirees would like to frequent. There was also very deliberate marketing to tourists and to the seasonal lakeside population that moves up from the US
Thorold seemed to cater more to the local population but it was as busy as Ridgeway
I would say St. Catherines' clientelle would be similar to Thorold.
It is essential that target populations are considered as businesses are established.  Ridgeway didn't start with marketing to tourists but as visitors gravitated to its quaint downtown, stores capitalized on this. Eventually shops that cater especially to tourists have sprung up next to stores with year round appeal.  Thorold downtown has been revitalizing in recent years.  I am not sure that Thorold has become a tourist destination but it is clearly thriving.  Welland has great potential to benefit from more tourism. We have key points of historical interest that could be developed more plus ours is the only downtown located on the Greater Niagara [cycling] Circle Route.  Cycling is said to be the new golf. Niagara has become a prime cycling destination because of the variety of attractions and cycling trails. These tourists are riding directly through our downtown along the canal. We are working on getting better signage to direct them into the city centre.  As a business we have contracted to have an icon for The European Pantry placed on the interactive map that is available for cyclers at: http://www.niagaracyclingtourism.com/bike-routes/greater-niagara-circle-route/welland-canal-recreation-trail/   Downtown attraction are already noted on the map. As more businesses buy into this form of advertising, a cluster of icons will form alerting cyclists to Welland downtown as a great stop off destination point.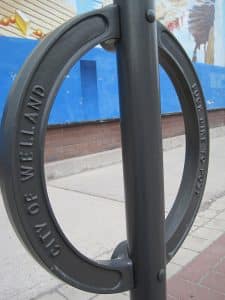 Currently, only 28 communities of 440 municipalities in Ontario can boast being "bike friendly".   Of those 5 are in Niagara.  Welland is one of those, currently holding a bronze status. We are working at upgrading that to silver by adding more amenities needed by cyclists such as: more bike racks in our downtown; better signage;  more consistent multi-model transportation; secure storage and parking for bikes; water stations and washrooms; delivery services for cyclists' purchases.
Who is investing in these businesses? Detailed answers to this question were beyond the scope of our investigations that day but certain patterns could be observed:
Families who have a long history in business and particularly in that locality. Brodies Drug store in Ridgeway has been in business since 1902.  Their current renovation work includes conservation of their historic store front.  Welland examples are  AP Brown Jewelers who have been serving Welland since 1910 and Carl Damudes Office Supplies for over 40 years.
Persons who have a unique service or product that they believe in.
Young retirees who still want to be engaged in an occupation but don't depend on their business for their income. Second income business owners can also fall into this category. The business is not viewed as a primary income source but rather as an outlet for a personal hobby or interest.
Entrepreneurs: visionaries who thrive on developing something new. If successful, these investors do not always remain the owners of the businesses they start because they often sell and move on to new projects. These people are often risk takers and do not always have a lot of start up capital. Therefore, unless they have a viable business plan their  ventures may not succeed.
Capital investors who see a healthy potential return on investment. These can be a boon or a bane to a historic downtown area.  Some capital investors are attracted to the unique attributes of a particular historic downtown and wish to invest in the preservation of such.  These investors often step in when a downtown is on the cusp of revitalization. Return on investment is realized because they buy when the real estate prices are still depressed.  These type of investors are a Godsend. The owners of the newly opened TARIS restaurant would fall into this category. However,  another type of capital investors can be a bane.  After local people have rebuilt  their downtown community national chain investors are attracted because they wish to capitalize on the consumer base others have developed.  There is little commitment by these national companies to maintaining the unique character of community.  We did not see this stage of development in any of the localities we visited, however,  I have seen it happen in other towns.  In some cases, this type of investment destroys the historic character that led to the revitalization.  Bylaws that require strict architectural conformity to the historic character of the community can become very important once revitalization has been successful.
What type of business plans are evident?  Successful businesses require viable plans.  Not everyone has enough start up capital to set up shop quickly and carry the business until it returns a profit.  Some businesses require a lot of expensive equipment. Others require a large investment in product.  As noted above, large capital investors will not be attracted until potential for return on investment can be visualized. This means that local people will need to lead the process of revitalization. So how do people without a lot of capital who need to make a living, leverage themselves into the role of successful business owners?  Here are some of the models that we noted:
Establish a clientele before opening a storefront. The owner of Niagara Cake Artistry in Ridgeway started her business in her home. Her first investment was a dedicated baking kitchen in her own home that conformed to health code regulations. After quite a few years she had established a clientele for her specialty cakes.  This allowed her to set up a store front.  The square footage of her display area may be small but customers can look down into her kitchen and enjoy watching her bake.  This inviting arrangement also saves on staffing costs because she can bake while she serves customers.  One has to sell a lot of cookies to pay the rent of a store front.  Therefore, usually small shops like this will have a "hidden" form of income by catering special events or through internet sales.
Share the cost and risk. Also in Ridgeway, Unique Creations Artisan's Outlet markets the work of over 100 artists. Artists rent small display areas for a reasonable cost and must pay a 20% commission for the sale of any of their work.  Visual artists selling canvases do not pay rent but must pay a 40% commission.  This business plan has several strengths.  Display area rents probably pay the base rent.  Commission would need to cover staffing costs.  The outlet owner, Tracy Nie, doesn't have to make a large investment in product but still is able to offer a wide variety of choice to the consumer.  Each article for sale is bar coded and artists are linked in via computer so they can see daily if any of their articles have sold. Artist cooperatives are a similar model.  Here the contributing artists share staffing requirements and the staff member present makes a commission on any product sold during his/her shift.
Start small and build. Our deli The European Pantry offers 100s of products from a large variety of importers.  However,  we started our business like a game of Monopoly.  Every time we "passed Go and collected  $200" we invested it in more stock.  We also started our business while one of us was still employed in another job.  Vacation days were used to build the business.
Innovative sourcing of product. The owner of the clothing store, Shannon Passero in Thorold takes her designs to Thailand to be produced.  Lorraine Hotchkies,  of L'Atelier du Pays Inc.  in Ridgeway uses the contacts she developed while she lived in Europe to source her product.  A perusal of what's on offer at Redefined Design here on East Main Street clearly shows that the owner has real purchasing smarts.  As a specialty food retailer I spend a lot of time researching import sources to find food products that my customers crave. One also needs to be savvy when dealing with suppliers.  Know when to buy bulk for savings and when not to invest in quantity.
Buy a store front with living quarters above. Those who own their own house can obtain capital by selling that house and moving into the living quarters above their store front.  There are lots of advantages to such an arrangement: no lawn to cut or gardens to maintain; no travel time to work;  loft style living; near proximity to restaurants and other amenities. However, to realize more return on investment some DIY skills will be important if you aren't coming in with lots of capital.  Remember that historic sells. Therefore, don't try to make the building look new.  Celebrate its heritage look while bringing the essentials like good heating into the 21st century.
Partner with an existing business. Do you have a skill or product that would augment an existing business well? Perhaps you know a business that needs to expand its store space but can only find storefronts with too much space.  Or perhaps a business will trade space for help with staffing. Such arrangements can strengthen existing businesses while helping someone else get a start.
What type of marketing are successful businesses using?  The right type of marketing will vary with the type of  business but here are some things we noted:
Many of the businesses we scouted made full use of social media to network with their customers.
There is a joke among retailers: What happens to retailers with poor customer service? A. They become wholesalers. If you want to be in retail you need to be genuinely nice. You have to be willing to go the extra mile for your customer. You have to anticipate customer needs and offer extra services like delivery. You want your customers to talk about you to other people but you don't want them talking smack.
Create a strong street/sidewalk presence. Signage is important. So is a storefront that makes people stop and look.
You can't be an island unto yourself. Being involved in the community is a form of marketing.
As we concluded our field trip  we noted that quite in contrast to the military definition of reconnaissance, the towns we visited are our friends.  The business people we talked to showed marked interesting in working together as a region to attract tourists.  The more Niagara becomes a "go to place" the more we will all benefit.  If there are enough attractions to fill several days, visitors will need a place to stay and our accommodation industry will benefit,  too.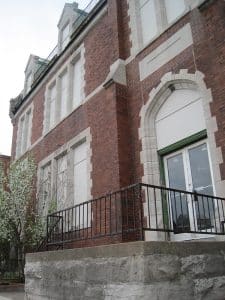 Literal reconnaissance, however, is needed though on a more local level.  As mentioned the localities we visited had few if any visibly empty store fronts.  Until investors move in and rehabilitate empty units in our downtown, questions need to be asked about noticeable empty and decrepit storefronts.  Who owns the buildings that are being neglected? Are there property standards that are being violated.  Has the city been informed?  Are these buildings available for sale? What type of potential businesses would be appropriate for them?   How can we work with local realtors to fill these buildings with viable businesses? As good citizens we also need to guard against the incursion of shady and dubious businesses that contribute to a negative downtown identity.
Through Redefinition of how we view Welland; Through Reinforcement of Welland's strength; And finally, through Reconnaissance:  identification of forces that are threatening our downtown and exploration of new possibilities, Welland can envision a bright, prosperous future.  Join the movement!