Garden salad, carrots and broccoli with lemon herbs, spanokopita twists with braised peppers and chicken.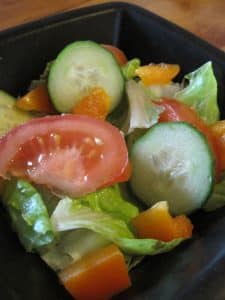 Garden salads are so easy…just use whatever is fresh at the moment….I usually start with romaine lettuce or a spring mix which contain more vitamins than iceberg. Did you know that red peppers contain more vitamin C than green peppers?  They are also so much sweeter.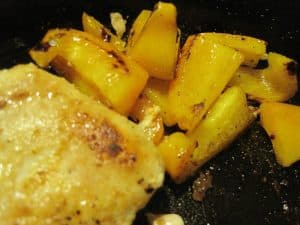 I season chicken breast with Verstegen Marinade spices and then braise them with peppers.  I usually don't feel like bothering to fire up the BBQ for just the two of us so my trusty cast iron pan does the honours with a bit of olive oil but this is a delicious BBQ option…just cut the peppers in larger pieces or skewer them.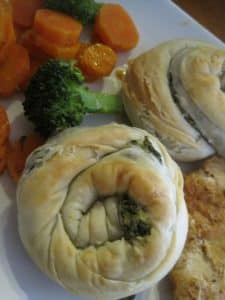 I throw my carrots into the pan first and let them blanch for a few minutes first in the boiling water before I add the broccoli florets. You can prep your carrots before work and refrigerate in water with a bit of sugar to save time when you get home and want to get the meal on the table quickly.  The broccoli florets can also be cut up and waiting in a bag in the fridge.
When they are just barely tender I drain the water, add a bit of olive oil and a lemon herb mix, toss and serve.  The spanokopita twists bake in the oven for 30 minutes at 350 F as I prepare the other items. I serve a bit of tzatziki yoghurt dip with the spinach pies. These flakey mini spinach pies now available at The European Pantry!