There are times when English for all its large word base is just not enough. As much as I am far more articulate in English than in Dutch, there are Dutch words that, like essential car keys, get me through the day. That doesn't mean I use them in conversation everyday. Even with all the Dutch customers that daily come to our store, I do not always need these words to converse. Rather they are part of my identity and shape the way I live.
For me running our store, The European Pantry here in Welland, is about more than just merchandising European imports. It includes understanding and communicating about the cultures that we are celebrating. So I will often troll online to learn more about European cultures other than the one I grew up in. That is how I stumbled on the word "Fika". Simply put, it means "coffeebreak" in Swedish but it didn't take me long to realize that this simple word encompasses so much more. It is like the Dutch word "gezeligheid" conjuring up a whole spectrum of feelings, associations and memories.
I am a crime drama buff and lately I have been reading Swedish crime dramas in their Dutch editions. Recently that was 'Oorlogskind' (Hidden Child in English) by Camilla Lackberg. Unlike their American parallels who meet in special meeting rooms, Lackberg's Swedish police investigators meet to discuss cases in the lunch room over coffee and cinnamon rolls. When the police officers knock on doors to ask questions, they are invited in for coffee and cake. It all started to sound so 'gezellig' that I had to remember I was in Sweden and not The Netherlands.  Dana Velden in her blog 'the kitchn' discusses the meaning of 'fika' . She explains that 'fika' is a daily, often more often, pause that nourishes not just the body but also the mind and spirit.  It is a conscious stop; the gathering of friends or co-workers to share time together. One commentator said that it is when teachers will discuss their challenging students. Unlike the North American concept of a break it is not just a stolen moment of laziness, it is rather an essential part of the social rhythm and fabric. And…this is important…it always includes food!  Especially the good stuff like cinnamon rolls and other sweets…what we call 'gebak' in Dutch.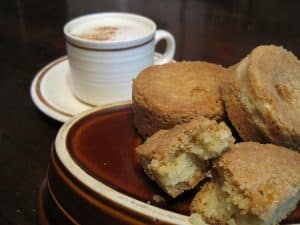 My older Dutch immigrant customers have told me of their shock on first coming to Canada at being given a 'naked' cup of coffee by their Canadian sponsors or neighbours. That just wasn't done back home unless you were very inhospitable. Coffee and tea must be served with cake or at least a cookie. Intrinsic to European culture is the high value placed on hospitality. But also the concept of 'gezelligheid'. Although the word is Dutch, the concept of an atmosphere that is warm, cozy and welcoming is not foreign to Scandinavian or German culture either. Each of these cultures understand the importance of creating a home that feels safe and 'good'. The interior design movements of these cultures reflect this, too.
It extends to the workplace.  Unlike at home where the responsibility for hospitality falls on the host or hostess, at work everyone is expected to contribute to fika. In Dutch culture if it is your birthday, you are expected to bring sweets for everyone. I would be interested in knowing if that is also part of the fika  tradition.  Pausing regularly and talking…koffeekletzen… contributes to healthier relationships between family members, friends, and colleagues. It shapes a stronger society.
None of my children have settled in their hometown. When I visit my oldest daughter, I stay at least for overnight. When my son-in-law comes home from work, everyone gathers for coffee time. My daughter usually has delicious cake or treats because Gramma is visiting but I expect there is something sweet most days. The memory of these fika breaks in their home are cherished as I return back to my own busy routine at home. Here in Canada where people line up at the Tim Hortons drive-thru to carry their coffee into work, we are missing out on a tradition that helps to strengthen the fabric of family and society. Perhaps we should all begin to fika everyday!  You will find the best baked goods to go with that coffee here at The European Pantry, and of course, great coffee!
Read Dana Velden's blog : Do You Fika?  The comments are worth a read, too!