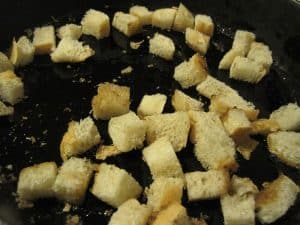 The ingredients for this cottage omelet are usually at hand. Leftover dried bread cubed, milk, eggs, German salami pieces, cheese, butter and dipping olive oil. Make 1-2 eggs & 1-2 TBSP of milk per person. You can vary the type of salami or substitute another type of sausage. Same for the cheese. The proportion of bread to eggs is also flexible.  Some like lots of crunchy bread and others prefer more egg.
Brush a cast iron frying pan with balsamic vinegar and Italian herb dipping oil. I use International Collection oils from the UK. Melt a table spoon of butter. Brown cubes of bread on high heat. Then reduce heat  to medium low.
Beat your eggs & add a few tablespoons of milk for each egg. Pour egg mixture over bread cubes. Sprinkle with cubes of cheese and salami. I used a mix of Jarlsberg. Gouda and cheddar. This is a great way to use up odds and ends of cheese.  Cover and let the cheese melt & mixture set. Flip over gently with a spatula and serve.