Every Saturday we offer several cheeses for our customers to taste.  This week you can sample Mont Jacob from Fromagerie Blackburn in Quebec.  The Blackburn family began farming in Jonquière in the Saguenay-Lac-Saint-Jean region of Quebec about 80 years and four generations ago. More recently they began making cheese including the award winning Mont Jacob.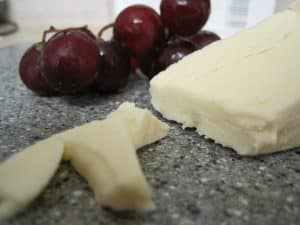 Being a washed rind cheese, the aroma is strong and the rind of any such cheese is an acquired taste. Cut into the cheese and you will discover the paste's rich buttery flavour. The finish is soft with no bitter edge.
The recommended pairing for Mont Jacob is a dry white wine.  Here in Niagara we suggest Creekside Sauvignon Blanc. A glass of this wine's white grapefruit, granny smith apple flavours and light tropical notes of pineapple and star fruit will be an excellent foil to the richness of the cheese. Try it and tell us what you think!