We tend to associate chili with TexMex but beans are equally at home in other cultures. Essentially chili is a bean stew. Balkan ingredients lend themselves to great chili….hot or mild.
Chili is a great dish for novice cooks.  Ingredients are basic: beans, veggies, seasonings and optional meat.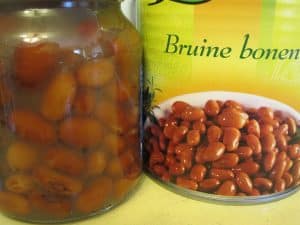 Beans: I avoid the typical kidney beans because there are other beans that are so much easier to digest.  I use romano beans or Dutch "Bruinebonen" which both have soft skins but fill the spoon like kidney beans.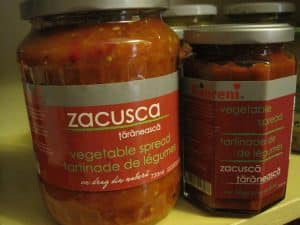 Veggies:  Tomatoes are a must but onions, green and red peppers, mushrooms, kernel corn, celery, or any combination are all okay. I cut my veggies in big chunks and saute them before adding them to the rest of the ingredients. My secret ingredient is "Zacusca". This is a Balkan relish made from baked eggplant, onions peppers and tomatos. I sometimes "cheat" and throw in a small jar of chunky salsa. In our family that means mild salsa but like everything in chili, that's negotiable!
Seasonings: Most people usually reach for chili powder. Nothing wrong with that but there are many other options, too.  If you want a Balkan chili then Hungarian paprika should be your 'go to' choice.  Hungarian paprika comes sweet or hot.  What I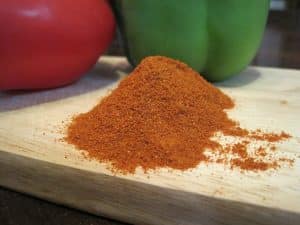 love about the sweet is that you can really up the flavour without going too hot. Then you can add some hot paprika for just the right amount of heat.  The most important thing to know here is that not all Hungarian paprikas are equal.  Most grocery store grade lacks in freshness.  Here at the European Pantry we put a few packages on the shelf and the rest is kept in a fridge for optimum flavour. You can tell the difference just by smelling it. You can also boost flavour by using paprika paste: Piros Arany or goulash creme: Gulyaskrem. Csipos mean HOT. Csemege means sweet…not sweet as in sugary. Just not hot.
Do some like it hot in your household and others mild? Make your chili on the mild side and then put hot pepper condiment on the table. Eros Pista is a ground hot pepper condiment from Hungary.  Edes Anna is the milder form.
Meat:  Chili can be a great vegetarian meal. Serve it with a wholegrain bread and you will have a full protein.  If someone is going to ask: Where"s The Meat? you have a number of options.  You can saute ground meat with your veggies or you can use stewing meat. This is the ingredient that benefits from slow cooking for tenderness and full flavour absorption. But you can also use leftover meat and then chili can be a quick after work throw together meal. Nevertheless, a few hours at least in a slow cooker melds the flavours.
It's hard to go wrong with chili but here are a few hints that will guarantee success.
If you are using fresh tomatoes be sure to simmer them for a while to evaporate some of the moisture.  I love using fresh garden ingredients but canned tomato chunks are a real timesaver on this step.
If your chili is too watery, add some tomato paste…or thicken it with some cornstarch.  Remember though you have to dissolve your cornstarch into fluid  before adding it to the hot ingredients.  Take a bit of the fluid out, let it stand to cool or add just a bit of cold water.  Two tablespoons of cornstarch will thicken a cup of fluid to gravy style consistency. The actual fluid in your chili mightn't  actually measure to very much so  add any thickener incrementally.
If you don't have a slow cooker make sure you don't simmer your chili on too high a temperature…you don't want your chunky ingredients to become mush. If it is cooler weather, slip your dish into a 200 degree oven for several hours to let the flavours mingle and blend.
Add a fresh salad, buns or bread and you can pretend you are eating on the slopes of the Mecsek mountains!