These tarts got rave reviews when I served them recently.  After several requests for the recipe I decided to share it here on our site for more of you to enjoy. This recipe will make about 32 small tarts.
You will need:
1 cup powdered sugar
1 cup ground almonds
1/2 cup tapioca flour
1 cup (brown) rice flour
1 tbsp almond flavouring
1 cup softened butter
approx. 2 tbsp  of 1 egg beaten with 1 tbsp milk
Zentis plum butter
greased mini tart tin.  I recommend using butter.
Mix the first 5 ingredients together evenly. Knead in the butter. Add just enough of the egg mixture for dough to hold together without being sticky. Roll the dough into 1 inch balls.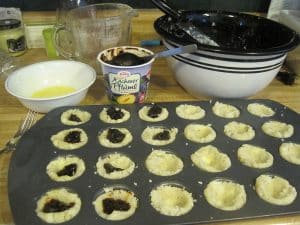 Putting a ball of dough in each tart form, press a depression into the center with your thumb.  Your tarts will not be quite as large as these pictured. Slightly smaller tarts are easier to remove from the tin.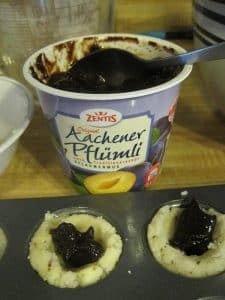 Spoon about a 1/2 tsp of plum butter into the center of each tart. A good quality apricot jam like Bonne Maman could be substituted for the plum butter.  Bake at 350 degree F for about 15 minutes or until golden brown as pictured.  Cool before removing them from the tin.