Do we want Toronto to shop in Welland more? People want life to be better in Welland. Better implies change.  Change is what I was alluding to when I spoke about "Redefinition" in the first part of this series on revitalization. To want better without being willing to change would be absurd.  Nevertheless, Welland has strengths and assets that we would be foolish to change.  Healthy revitalization requires a careful assessment of what we need to move past and what we need to cherish and "Reinforce".
Welland is in some ways, Canada in miniature. Officially bilingual. A cultural mosaic that experienced rapid post-war population growth. Like Canada in general it has had to transition from a resource based economy to something else. However, in spite of all the plant closures in the past 20 years, Welland's population hasn't declined.  In fact, it actually grew slightly, primarily because it has become a bedroom community for other work centres. People seem to like to live here. I was just talking to someone yesterday who commutes 2 hours to a job north of Toronto. She considered moving nearer to work but has decided to stay local because they found their dream property just outside of town. What makes people stay here? It has to be more than our low housing prices!
One of our greatest assets is our people. I have lived in Welland for over 30 years.  I love the people of Welland: our diverse cultures; our bilingual status; our small town innocence; even our old-fashioned, down-to-earth, working class mentality.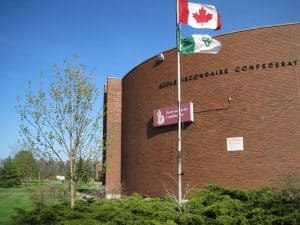 A visit to Welland's Farmer's Market underscores the diversity of our cultures. As you stroll through the aisles and along the farmer's booths, a wide range of languages and accents can be heard.  Most certainly we all harbour loyalties to our particular heritage but yet there is a tolerance and appreciation among the different ethnic groups here in our city. We generally are not divided into racial or ethnic neighbourhoods. We live side by side. We marry across cultures.  I have been particularly aware of this because people coming to our deli, The European Pantry, frequently share their cultural history as they purchase our imported foods. I am not so naive as to think that racism doesn't exist in Welland. One will find bigots anywhere, nevertheless, we shouldn't take Welland's racial harmony for granted. I know a couple who recently found it difficult to find an apartment in another municipality because they didn't match the demographics of some of the neighbourhoods they considered. People coming from those types of municipalities find the cultural atmosphere in Welland very refreshing. We need to celebrate our diverse cultures through home coming events. Our fall food festival should showcase the foods of Welland's people rather than mainly carnival food. At the same time, there is a fine line between celebrating culture and cultural insularity. Perhaps we do not have ghettos within Welland but is it possible that Welland has become a ghetto itself? Are we open to newcomers, to people who may look or speak differently than ourselves. If we want to attract Toronto and perhaps the world to Welland, we had better be welcoming when they get here.
Of all the cultures that built Welland, our French-Canadian roots stand out particularly. Many people driving through Welland do double takes at our bilingual street signs.  Welland and Port Colborne are bilingual anomalies in a primarily English province. Who expects to find a bilingual town so far away from Quebec? Not many communities can boast the French services that are available in Welland. I was particularly interested lately in hearing that there are businesses in France that are looking at locating in Welland because of those services. We need to sell our unique bilingual heritage and status to investors and to French speaking tourists. That means moving past offering services in French to developing and marketing French cultural events. I know not all of us are bilingual. I for one never got much past cereal box French fluency. However, I do speak two languages.  I understand how deeply language and identity are tied. I understand those moments when English just cannot express what I feel. But having grown up in a sub-culture I also know how easily language can divide people. Welland cannot afford to have "Two Solitudes". We need to practice inclusivity in our differences but at the same time we shouldn't neglect capitalizing on our valuable bilingual status.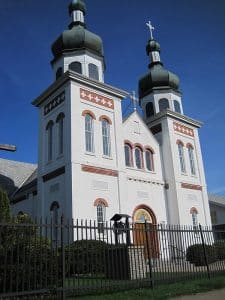 Welland is a city of churches. Perhaps the majority of Welland sleeps in on Sunday morning but a tour of our streets reveals that the cultures that built Welland brought their faith with them. This is still evident in our community values.  We stop and give funeral processions right of way. Neighbours know and help each other. I have seen people work together to care for the stray cats in a neighbourhood.  There is a kindly respect for life that speaks of an innocence that has remained un-jaded in a world where life is cheap.  This type of life respect recognizes the value of every person.  Someone told me recently of being part of a group of people who aggressively pursued health services for a mentally ill person who was living in appalling conditions. The ill person appeared to not want help but recovered some of her quality of life because of their intervention. Call it good citizenship; call it loving your neighbour; call it naive, old-fashioned; call it what you will but it is a quality that hasn't been lost yet in Welland. Let's grab it and hold onto it. Hope is found in the concept that everyone has been created for a purpose. It is that hope that helps people to carry on when jobs are scarce and a better future seems a steep uphill struggle.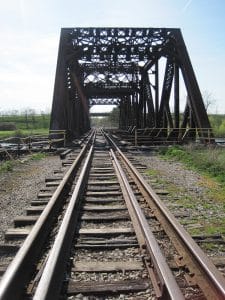 Welland is a working class town and it has never pretended to be anything else. We do not have to apologize for our working class roots but perhaps it is time we accept that we can aspire to more. Our parents and grandparents exemplified a strong work ethic.  I recall an elderly neighbour telling me how proud she was when her husband would leave for work carrying his lunchbox down the street to Atlas Steels. The days of the steel plants are over but if we want a better Welland we better be willing to hard work.  Welland's future will depend on our willingness to get our hands dirty and bend our backs to the task. However, there are elements of our working class background that need to change. I was talking to a lady who moved to Welland this past year.  She has been shocked at the level of vulgarity she sometimes hears in Welland. Truth be told, if some Wellanders were disarmed of their F-bombs they would have trouble communicating.  She also noted a lack of courtesy by people in reception roles…even at city hall.  If we want Toronto and the world to shop here, we better improve our manners. Working class heritage doesn't excuse low class behavior.
We want Toronto to shop in Welland but we must not expect Welland's revitalization to be dependent only on the non-resident consumer. People are one of Welland's greatest assets. The people of Welland need to shop in Welland. Tourists are a valuable resource but we will come a long way by staying home and shopping in Welland instead of spending our money in other municipalities and particularly across the border.  On that same score though, businesses in Welland must market to its people.  Our business  has been criticized by wholesalers for our low prices.  We always remind the critics that our first responsibility is to Welland shoppers.  We cannot pretend to be in Niagara-on-the-Lake even if people coming to our store say it has that type of vibe.  We live in Welland.  Our business is in downtown Welland. The people of Welland are our customers. So we work hard to make sure they can afford to shop at The European Pantry.  The revitalization of downtown Welland will depend on learning how to appeal to both the local consumer and the visiting tourist.
The people are not Welland's only asset.  Space in this edition limits me here to a list of our other assets. I will expand on some of these in the "Reconnaissance" portion of this discussion. Here are some of our assets:
The Welland Recreational Canal including features like the amphitheatre.
A world class rowing facility that attracts events like the Pan Am games and Dragon Boat races
An iconic historic lift bridge that is going to be lit "with capabilities of white and coloured LED's with the structure as the focus of architectural lighting."
The beautiful walking/biking trail on Merrit Island enjoyed so many local people and visitors. The equally beautiful city gardens that say "Welland!" as much as the signs that greet people as they enter town.
Close geographic proximity to the tourist populations of Niagara Falls and Niagara's wineries.
The only Niagara municipality that has part of the Greater Niagara Circle Route running through its downtown. Check out www.niagaracyclingtourism.com
A year round farmer's market
A large community college that attracts students from all over the world
Close access to inter-provincial and international transportation
Reasonable housing costs
Deep historical roots that are evidenced in historical points of interests and multi-generational family ties to the city
An educational system that attracts families from both within and outside Ontario who want their children educated in both our national languages
A huge art community which is centrally located to allow the enjoyment of theatre and the arts both locally but also from Toronto through to Buffalo
A small town community where you know the people you meet at the grocery store and pass on the sidewalk. A place where neighbours talk over the fence.
A vibrant sports community where many leading and famous male and female athletes got their start. Welland is also the home town of well known inventors, visual artists, musicians, leading politicians and broadcasters.
Being on the Downtown Welland BIA Board has opened my eyes to many initiatives that are being forwarded by people who really believe in Welland. The above assets will be used increasingly to bring people to Welland. It is time we stop making excuses for why we are not part of positive change.  I encourage you to attend the Community Improvement Plan meeting scheduled for June 1st at 5:45 pm in the Community Room at the Welland Civic Centre. If we want Welland to grow and flourish we need to reinforce these efforts.
Yes, we want Toronto to shop in Welland. And yes, change will be necessary for Welland to be better.  However, let's remember our cultural heritage and reinforce the values that built this town so that as we grow we continue to respect the value of all our citizens. It is our small town values that make us so appealing to those Toronto shoppers we have been talking about. Small can be beautiful.
Part 3 of this series "Reconnaissance" explores ideas for the development and promotion of Welland.  Read more…