Are you Welland proud?  Recently, I saw a Facebook post trashing Welland by a Wellander. It felt like a personal kick in the gut.  No one can dispute that Welland has suffered from economic down turns and shifts to cheaper labour pools.  Nowhere is that more evident than in our downtown core. But a city's downtown is its soul.  The city's history is written on those store fronts. Many personal memories are etched on those bricks. When we insult our city and our downtown in particular, we strike at the core of who we are.
I didn't grow up in Welland but when my family moved here 30+ years ago, there was still a healthy downtown.  Living in East Welland means we have watched the downtown decline day after day, year after year as we have driven the East Main St. stretch to access other parts of Welland.  Yet we chose to locate our business in the downtown core 12 years ago because we believe in Welland's soul.  The drive down East Main St. has changed since we set up shop here on Avenue Place.  Store fronts are being restored and there are now some solid businesses that are here to stay.  Most certainly, city hall moving downtown helped begin that move but if we want the trend to continue there are three areas of progressive initiatives that need to be forwarded: redefinition, reinforcement and reconnaissance.
Redefinition
Essential to revitalization is redefinition.  Declining;  Blighted; Dirty; Rundown.  These are words to be expunged from our vocabulary.  Let's begin to speak of Welland's re-emergence;  its potential;  its historical heritage; its re-development.
But words are not enough. There are strategies and actions that achieve redefinition.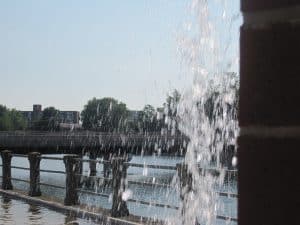 Pride:  We start by picking up our pride and picking up garbage. Kudos to the Project Downtown team who organized a clean-up day a few weeks ago!  Effective bylaws that govern the pickup of garbage in the downtown area on pick up day are also important.  When recycling containers sit on the street too long, they get blown over and their contents from spill over the street.
Beautification:  When the downtown looks good we feel pride and we don't drop that garbage in the first place. Flowers;  reflection ponds with water  features; well kept gardens and canal pathways; an iconic historic bridge with paint that is NOT PEELING! All these elements are essential to redefining our downtown.   Equally important are measures that require absentee owners to maintain attractive storefronts of empty buildings.
Safety:  When we first set up shop downtown, people would ask us if we felt safe being here.  To be honest, I didn't at first. We often fear what we don't know. In the 7 months that it took to renovate our store I came to know the neighbourhood and realized there were no boogie men hiding in shadows. Instead I became part of a community that was committed to making the neighbourhood safer.  Local police have assisted business owners to make practical changes that improve safety.  People are taking responsibility for making it safer. It is amazing how fast youngsters climb down from where they ought not to be when you point you phone camera at them! Today, no one asks us if we feel safe because visitors feel safe.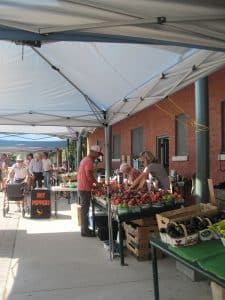 Events:   Only by coming downtown and experiencing it will people redefine their attitudes about it. People need to experience its beauty, its potential and historic value to redefine those attitudes. Only by coming downtown will they experience the safe feeling that those of us who are here all the time know.   This is why planning special events that bring people downtown is so important.  Easter egg hunts; music events at our beautiful amphitheatre;  street dances;  parades.  All these are opportunities for people to come downtown and to be impressed by what Welland is becoming.
Streetscaping:  This winter I had the opportunity to attend the Niagara Active Transportation Summit.  We learned about the development of "complete streets".  These are city planning models that encourage  people to walk, cycle and use public transportation.  These models help to revitalize downtown cores.  It is a multifaceted concept and I encourage you to read the report at Healthy Living Niagara's site.
The eyes of visitors see something different than the eyes of Wellanders.  When Toronto comes to Welland to shop, I hear their comments.  They see a beautiful town. They feel safe as they stroll along the canal and take pictures. They take pictures of our historic buildings.
So how do we get Toronto to shop in Welland more? It starts with Welland taking pride in itself.
Continue Reading:  Reinforcement
If you would like to read our earlier article, "Why Toronto Shops in Welland" please click here.