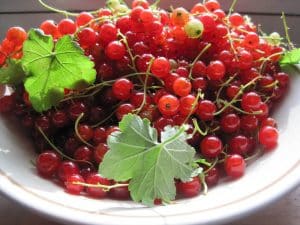 Berries are the jewels of summer!  I was leaving work the other day and realized…after I had locked the door and didn't want to go back inside…that my currants in the back yard were ripe. So my hat came off to make a handy bowl conjuring up memories of impromptu berry picking when I was a child.
The tartness of many berries make them an excellent addition to sweeter desserts. Strands of currants will beautifully garnish a cake. On one such creation I also added a few mint leaves which pleasantly surprised  us by giving the frosting hints of mint.  All it needed then was a bit of dark chocolate….
When it's hot, who wants to bake so this time I used my berries to make a trifle. Custard, some left over pound cake,  whipped cream or frozen whipped topping plus the berries…and you have a quick attractive dessert.  If I haven't baked pound cake I will use one of Kuchenmeister pound cakes that we sell here at the Pantry. They are available in a number of flavours; each can add something special to your dessert.
When I make custard, I only heat up about half the required milk.  Some is reserved for mixing the custard powder but I leave more on the side to whisk in once the pudding starts to thicken.  I also whisk in some 10% coffee cream for a richer flavour. It preps faster this way and I can control the thickness of the pudding by adding milk until it is just right.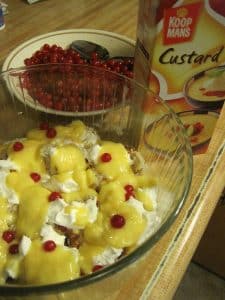 The instructions for Koopman's Custard mix are very easy to follow. Two cups of milk  will give you about 4 servings.  To that I add 2-3 slices of the pound cake and about a cup or more of whipped cream.  All you need is about a half cup of berries.  Any type will do. If they are sweeter you can increase the amount but it is better not to over do it with particularly tart berries.
Start assembling your dessert before the custard has time to cool and set. After spooning in a bit of custard on the bottom a clear bowl or into 4 tall glasses crumble some pound cake in pieces. (The larger your dessert, the larger the pieces of cake can be. Otherwise an inch square is about right.) Spoon a bit of custard on top of the pieces of cake. Then drop your berries into the custard. Dollop some whipped cream then repeat your layers again starting with another layer of pound cake. Garnish with extra berries on top.  You can serve it immediately or chill it first.