My friend, Vicky, and I were chatting about the immigrant experiences of our parents. Many were funny; others were poignant. Vicky told me that when her mother wrote home about her life here in Canada, her father took his daughter's stories and published them in a Dutch newspaper column. However, many immigrants' stories have never been published let alone recorded. Their stories are wonderful testaments to human resiliency, perseverance, ingenuity, community and faith. We need to share their stories before they are forgotten because many of our parents and grandparents are no longer with us.
Welland is a city built by immigrants from many different countries. In keeping with "Throw Back Thursday" I would like to give people the opportunity to share their stories and those of their parents and grandparents. If you have a picture and story to share, please send it to us and we will try to share one each week. Here is our first installment:
Goodbye Dear Family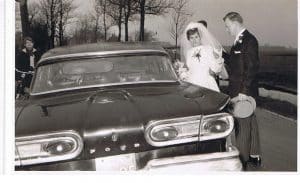 In today's world of internet: Facebook, facetime; Skype, emails, it is hard to imagine the great chasm immigration created between immigrants and their families back home. The picture above is of my mother-in-law, Tjitske with her family in 1954. She was already engaged to my father-in-law, Jan but wouldn't join him in Canada for another 3 years. In the meantime, they carried on a courtship by correspondence. She is the young woman on the left looking very poised at less than 21 years of age…younger than each of my children already.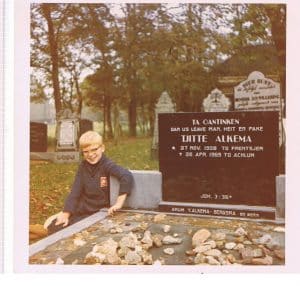 In those days when people immigrated they did so knowing that they might never see their loved ones again. Special events like weddings would probably be missed. In fact, when Tjitske and Jan married in 1958 here in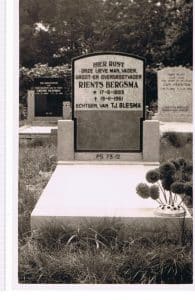 Canada, only Jan's sister Gerda and her husband were present.  Photos became very important leaving a record of the significant events that Tjitske missed back home: Like her brother Jaap's wedding above and the funerals of her father and grandfather. But she never focused on what she missed but rather on all she gained by coming to Canada.
Canada was indeed very much the land of new horizons. After my mother and her sister immigrated as teenagers, they decided that their weddings would be done the Canadian way: diamond engagement rings; beautiful white wedding dresses; bridesmaids, a large wedding celebration with a wedding cake.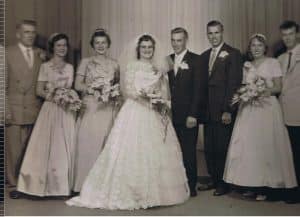 You can see in the picture to the right that my mother did get her wish. Her aunt, a skilled seamstress sewed her classic wedding dress. I hate to think what the cost meant for these cash strapped immigrants! For my grandparents this was all a bit foreign and complexing… what exactly was a "Canadees" wedding? My grandfather finally thought he had answered this question after both these sisters were married. At my parents' wedding during the double ring ceremony one of the rings was dropped and had to be retrieved. A year later on my Aunt Willie's big day, another wedding ring went rolling. Opa leaned over to my grandmother and said, "So this is what makes a wedding Canadian?"