As in music, the blues in the cheese world are an acquired taste but they also promise complex enjoyment. We have assembled a play list of tastes. Check out our blues line up:
Cambozola is the opening act, a gentle intro into blue culture. Technically this is a hybrid cheese, that combines the rich creaminess of a triple cream French Brie and an Italian Gorgonzola…a union that was composed in Germany. Due to its high moisture level the cheese collapses as the Pencillium Roqueforti is injected leaving the mold to develop in isolated pockets instead of veining the entire cheese.
St. Agur follows Cambozola in the line-up. It is made from cream enriched milk of cows that graze on the mountainous pastures around the village of Beauzac in the Auvergne region of central France. Developed using Pencillium Roqueforti in 1988 after years of trial and error, St. Agur offers a soft spreadable cheese that strikes a harmonious balance between creamy and tangy notes. During the maturing process in a moisture and temperature controlled environment the cheese is "pierced" multiple times to "feed" the mold with oxygen creating a perfect fusion of veined blue and creamy paste.
Extra Creamy Danish Blue subtly raises the tempo of our cheese concert. Although intended by Mariun Boel to mimic the more ancient French Roquefort, the synthesis of Pencillium Roqueforti with creamy Danish milk resulted in a milder gentler variation of the classic. There are few modern voices that can match the smokey tones of Satchmo. The same must be said about efforts to match the nuances of a classic like Rocquefort. Terroir cannot be duplicated. That said, new stars are always on the horizon. Mariun Boel created an equally mesmerizing cheese.
Another modern cheese that owes its culture to Pencillium Roqueforti is Roaring Forties Blue but from there on it represents fresh improvisation on the blues theme. Roaring Forties owes it name and terroir to the strong 100 km/hour westerly winds that wrecked many ships off the coast of King Island south of Melbourne, Australia on the 40th latitude. In the 15th and 16th centuries the seeds in straw mattresses from ships that floundered onto the shores of this island germinated to create lush unique pastures. Today the island's dairy cows feed in these rich pastures and on sea kelp. Unlike Roquefort which is wrapped in foil to slow the growth of the pencillium after maturity, King Island Dairy diverged further from the classic blue by maturing the cheese in a wax coating. The resultant cheese is full-bodied but milder and sweeter with a nutty flavour.
As we build momentum we come to the classic Roquefort PDO; its name is Protected by a Designation of Origin. To be "true blue" Roquefort, a cheese must be made with milk that comes from Lacaune, Manech or Basco Bearnaise sheep. It must also be aged in the Combalou caves in Roquefort-sur Soulzon. Pencillium Roqueforti is native to these caves and although P.R. is a common saprotrophic fungus found in decaying soil the world over, nothing can match the exact environment and strain found in this locale. Roquefort dates back to 1070 A.D.making it a golden oldie.
Shropshire Blue: although a relatively modern cheese originating as recently as the 18th century, Stilton is another time-honoured blue. It is also a cheese of protected origin of designation. Only 7 dairies located in Leicestershire, Nottinghamshire and Derbyshire are licensed to produce it. Stilton is formed in cylinders but not pressed.This leaves air pockets so once the Pencillium Roquefort is injected into the curds, it can grow deep into the core. The cheese is rotated as it matures thus helping the mold grow while maintaining the crumbly texture of the cheese. Because it is a protected cheese, other cheese producers who wish to benefit from its popularity must by necessity invent a variation on the same theme. The invention of the fifth cheese on our play list this Saturday, Shropshire Blue has been credited by the web to both an Andy Williamson and to a Dennis Biggins. The likely winner of that debate is Andy Williamson who worked at Stuart Castle Dairy in the 1970's where the cheese first made its debut. At that time it was called Inverness-shire Blue or Blue Stuart. When the band of cheese makers at Stuart Castle broke up the cheese wasn't heard from for a while until its tune was revived back in Stilton's East Midlands territory by Long Clawson in Leicestershire and two more dairies in Nottinghamshire. It is coloured a deep orange and described as slightly sour, sharper than Stilton but creamier. Personally I find it milder than Stilton. I would describe it as a blue cheddar.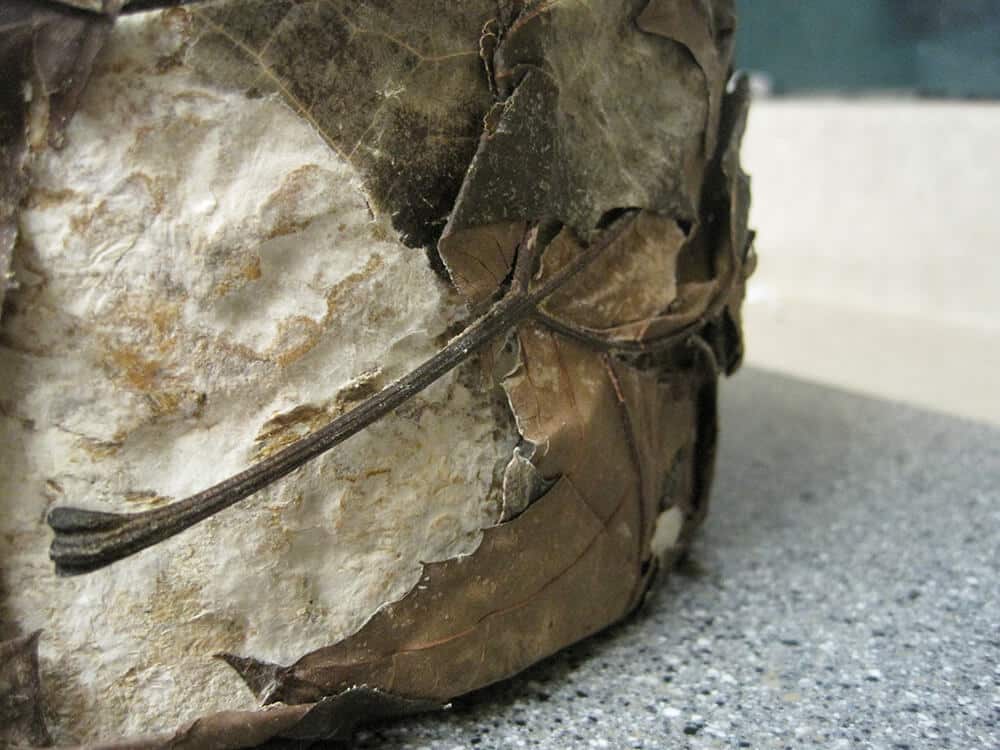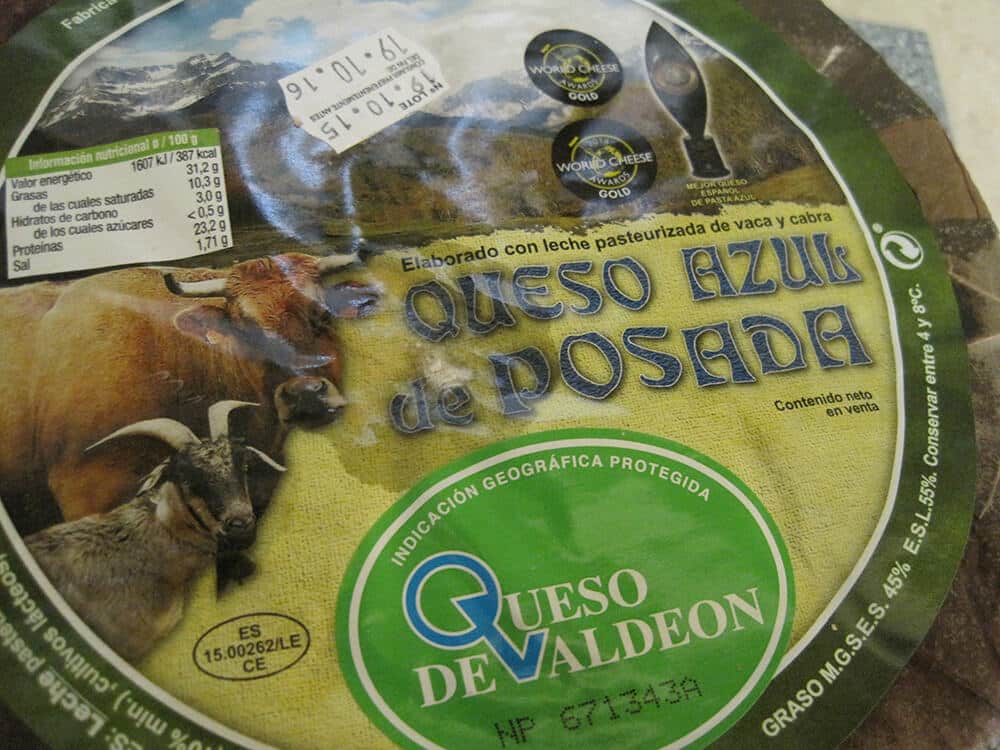 Our crescendo is Valdeon. I have not been able to isolate a date of origin for this intense blue but as I loosened its sycamore leaf wrapping it was clearly intoning an ancient song. Given that it uses Pencillium Roqueforti, I suspect that it doesn't predate the classic Roquefort but this is an old cheese. Cow and goat's milk from the municipality of Posada de Valdeon in the Northwestern Spanish province of Leon is blended in secret proportions. The rind is coloured by the leaves it is wrapped in. The paste of the cheese is thoroughly marbled with blue. Although this is probably the cresendo of blues in its intensity, I found the blue didn't overwhelm the complex flavour of the cheese.
Taste, enjoy and review these blues with us. Our line up of French, English, Danish, German, Spanish and Australian blues should appeal to a varied audience. We are developing pairing recommendations for these amazing blues. Do you have a wine to recommend?
Wines that Play the Blues right here in Niagara!
Foreign Affairs Winery in Vineland recommends their:
Cabernet Franc '07
Vinceró Recioto-style '08
Gran Q '10
Temptress '12
Riverview Cellars Estates Winery along the scenic Niagara River suggests their:
Riesling Icewine
Vidal Late Harvest
Malivoire Wine suggests we try their Guilty Man Red with Shropshire Blue & for Roquefort and St. Agur:
Musqué Spritz
Riesling icewine
We are going to have to check that out!