Fall seems like the time that everyone starts cooking and baking again. Maybe it's the cool nights that just beg for the oven to be turned on.  Or perhaps walking through all the wonderful produce at your local farmers market, like the Welland Farmers Market next door to our store, makes you want to want to roll up your sleeves and put something up for the cold winter nights. If you are really fortunate like me, you will have a tree laden with ripe fruit that is wishes to be glorified in some special recipe.
I am enjoying an amazing apple harvest this year. Last year with its late spring frost, I got a total of 2 apples on our tree. This year the tree is loaded with apples.  I estimate at least double its usual output of 1 bushel.  We have already been enjoying apple sauce and crumble from the my cullings. Anything that has flaws, has been pecked by a bird or has fallen is ending up in a pot or a tin. We have a wonderful cold storage so the more perfect specimens will keep well into the new year.  Provided that I don't have any unwelcome little B&B guests. I have already dispatched 4 of them.  Eying my wealth of apples I did a walk around on my day off to find out where these pesky little creatures were getting in. I found some loose mortar and stone around one basement window. I have never outgrown my childhood enjoyment of playing with mud so I spent a pleasant hour repairing those spots with some mortar. The way back into the house is past the apple tree.  I couldn't help myself…before I knew it I was stuffing apples into the bib and pockets of my overalls….enough for a large strudel and some apple cake.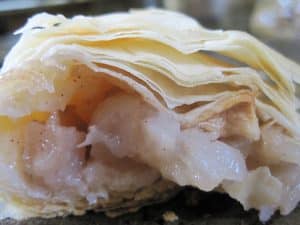 I must admit I cheated a bit on the strudel by using phyllo pastry we sell in our store. But I was quite proud of my results…albeit a Dutch-Canadian woman's interpretation of a Hungarian specialty…and posted pictures on the Hungarian food Facebook page I am a member of.  That led to a long discussion about the origin of strudel…it made its way to Austria via Hungary who were bequeathed the mysteries of strudel dough making by invading Ottoman Turks.  I was also treated to many wonderful hints about making strudel dough so I can go the whole way next time and start totally from scratch. With all those apples I shall sometime soon since I have never been one to walk away from a challenge. The one thing no one offered was a recipe for the dough.  I found one on line…click here if you want to discover the mysteries of homemade dough yourself  …Otherwise you can cheat like I did and buy phyllo.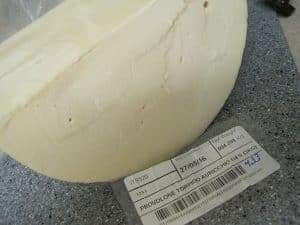 Strudel isn't the only fall treat that has been intriguing me.  A few weeks back a customer asked me to get some nice aged provolone because she would be preserving stuffed cherry peppers. Most Provolone you will find in stores is mild, soft and reminiscent of Mozzarella. I found her a wonderful Provolone Torpido Auricchio aged about a year. It is made by an Italian family in Wisconsin. I think the mild Provolone in the cooler is probably is feeling very mediocre right now…although I told it that it still makes a wonderful pizza or grilled cheese. Of course,my curiosity was tweaked and I had to find out how she was making these stuffed peppers… here is the recipe I found:  Marinated Stuffed Cherry Peppers.
Then if all this wasn't exciting enough, I had another customer come in to buy Gorgonzola for…wow…Pumpkin Ravioli with Gorgonzola sauce. This recipe uses wonton wrappers to make the ravioli.  I think my customer makes hers totally from scratch but, hey, if we can cheat with ready made phyllo pastry, we can cheat with wonton wrappers. When the smells waft from your kitchen window, your neighbours won't know any better!