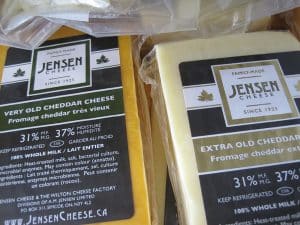 Since the 1940's the Jensen cheese counter has been a familiar fixture at the Welland Farmer's Market.  I remember pushing our oldest daughter in her stroller down the center aisle of the historic older market building and hoping the line up in front of their counter wouldn't be too long. When you finally got to the front of the queue you could count on seeing Ed Coulson's friendly face smiling at you over the counter. In those days, I never imagined that we would join the market vendors to sell wares and later be running a cheese and import shop just a stone's throw from that very spot. Although we never were located in the venerable historic building, our business had it's start about 18 years ago at the market.
We were sorry to hear that Ed was retiring and Jensen Cheese would no longer be selling their cheese at the market. It marks the end of a significant era.  We were thrilled, therefore, when Jensen cheese asked if we would be willing to continue to market their cheese in Welland. There have been many meetings, phone calls and emails as the details were worked out by Glen Echo Fine Foods who handle the distribution of Jensen Cheese in the rest of the province. We are happy and proud that we can now announce that the Jensen Cheese market tradition will continue right here next to the Welland Market at The European Pantry.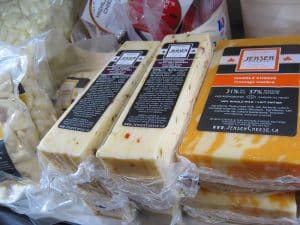 Our first delivery of Jensen Cheese arrived today. The boxes are empty and the cooler is stocked with Jensen's traditional cheddars.  It was a bit of a challenge fitting it all in with the 75 other types of cheese we have in stock but with a bit of creative rearrangement we did it. When you see the large Jensen banner Saturday flying outside our store you will know you have come to right place.
We look forward to welcoming Jensen's faithful customers and hope to make their cheese buying experience as friendly and as pleasant as the Jensen family have since the 1940's.  We also take this opportunity to wish Ed Coulson all the best as he enjoys sleeping in on Saturday mornings now!! You can read more about Jensen Cheese by clicking here.