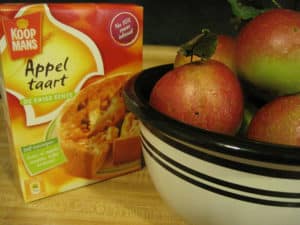 A Dutch Apple Tart can be made from scratch but if you aren't a confident baker, this easy mix is a fool proof way to enjoy this favourite anyway. I use a 9 inch spring form but any similarly sized baking dish can be used.
Assemble your ingredients….
1 pkg Koopman's appeltaart mix.
175 gm of soft margerine or butter. That's 3/4 of a cup.
1 egg beaten
4-5 apples.  You can use more if you want or if your apples are on the small side.  Macintosh tend to cook up a bit mushy, Northern Spy can take forever to bake if they aren't very ripe.  Ida Red are a nice in between. Tip: if you aren't sure how many you need, fill your baking dish with apples and add one or two more if you like lots of apples.  Unlike a regular pie its okay if the top and side crusts don't join perfectly.
35 gm sugar…you can use white or brown sugar.  Taste your apples as you are prepping them.  If they are on the tart side, you might want to add a bit more sugar.
3 teaspoons cinnamon
1/2 cup raisins. You can also use a combination of raisins and currants. I like to plump mine ahead of time by letting them stand in boiling water as I prep the other ingredients. The raisins make it an authentic Appel Taart but can be left out if you aren't very keen on raisins. I sometimes use blackberries with the apples instead.
Make the crust….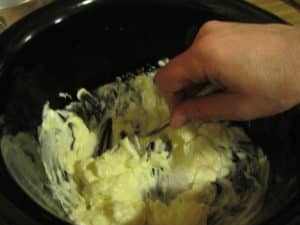 Cream your butter or margerine.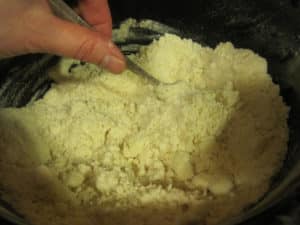 Add the contents of the appeltaart mix and gently make crumbs.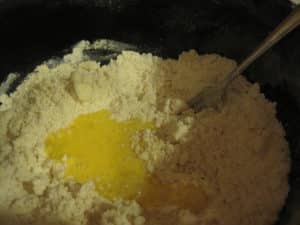 Pour the beaten egg into the center and use it to form the dough.  It might seem like there isn't enough moisture but there is.  Just gently work the crumbs into a ball with your fork. The resulting dough is a hybrid between cookie and pie doughs.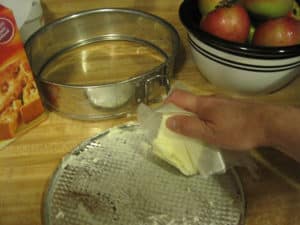 Grease your baking dish thoroughly, including the sides.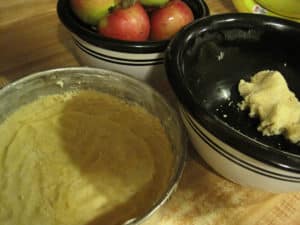 Press 2/3 of the dough into your spring form or baking dish. Push it from the center to the sides and up.  You will notice that even if your dough didn't form one solid ball it will have a nice consistency to make the base of your taart.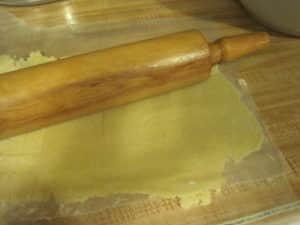 Roll out the remaining dough between two layers of waxed paper.  Trim the rough edges so you have more of a square and add  those trimmings to the sides of your taart.  Put the rolled out dough into the fridge until you are ready for it.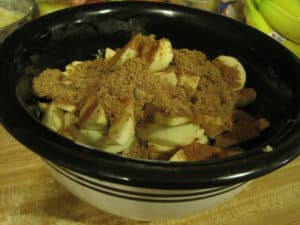 Peel and slice your apples into pieces. Mix with sugar and cinnamon. If you have plumped your raisins then drain them and add them too.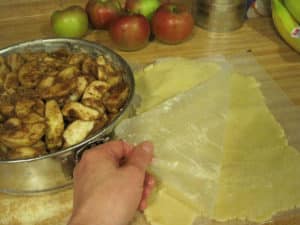 Now you will be ready to prepare the top crust. A woven crust might seem daunting but this dough is very forgiving and you can "fake" it.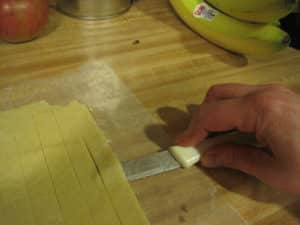 Cut the rolled out dough into strips and ease it off the wax paper with your paring knife.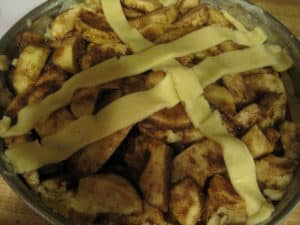 Starting in the center with you longest strips of dough, layer the strips in a woven pattern.  You will probably not be able to repeatedly lift strips to weave so just cut the new strips where they are supposed to run underneath and slip the ends under the upper strips. You will also find that you can pinch two strips together.  The joins will be almost invisible once it is baked.
Bake….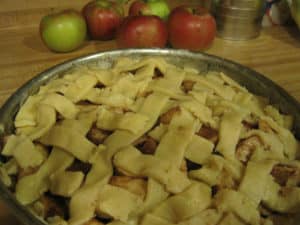 Preheat your oven to 350 degrees F. Bake for 45-60 minutes.  How long it takes will depend on the type of apples you use.  If you have used firmer apples like Spy you will want to sit your tart on a piece of tin foil and loosely place another piece of foil on top to keep the crust from browning too dark as the apples bake. Be sure to have the shiny side of the foil facing out.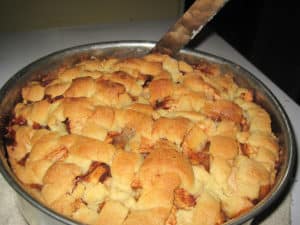 The tart will be ready when the apples are soft and the crust is golden.  If the crust is done and the apples haven't softened yet use the tin foil trick in the last illustration to keep the crust from getting too dark. When the tart is done, loosen the crust from the side of the pan with a knife before serving.
Enjoy….!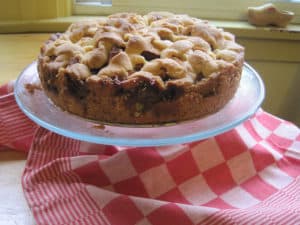 Serve it warm on its own or with ice cream.  Bon Appetit!
Variations:  I have used this mix to make small tartlets that I fill with fruit or custard.  I have also used all of the dough to fill a bigger pan and made my own crumbs to top the apples.  It is a very versatile mix.